Selling price of pigs by SMS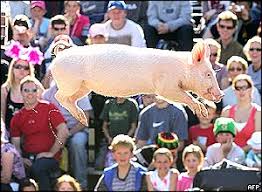 Pig prices alerts via sms? Even Nostradamus didn't see that coming. The story goes that a Dutch weekly farming magazine, and Dutch mobile service provider Emexus have jointly introduced three SMS alert services for the agricultural sector, according to DMeurope.

The company is offering an SMS alert service for pig farmers to inform them on a daily basis about the current selling price of pigs, including international pig quotations.
Alternately, farmers can subscribe to a service offering quotes for milk prices or those of potatoes and onions. Err, is this the new implementation of EU's Common Agricultural Policy( CAP) ? Damn, they're too innovative when it comes to improving the system. Right then. Back to my rebel goats.