Text messages track elephants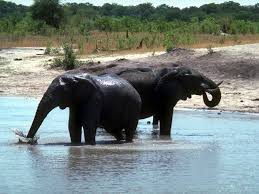 Animal lovers round the world will soon be able to go online and track their favourite elephants as they move around the Kenyan bush through cellphone technologythe. Elephants in some national parks are being fitted with SIM card collars that send a text message telling wardens where they are every hour. Imagine an elephant texting this: 'Hi Bill, I'm at the pond, havin' a drink, watchin' the game!'. Nooooot! Anyway, that information will soon be available over the internet, and accessible to people who choose to sponsor an animal or make a donation to charity.

People can go online and see where 'their' elephant is at any time of day or night,
said Mark Jenkins,senior warden at Meru National Park,which is about to introduce the technology."It should be a very useful tool for fundraising.
The technology will be also used to track the elephants' migration routes through the Kenyan bush,and alert wardens to any threat from poachers.