Cannes Black Market by SMS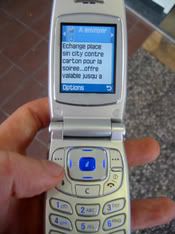 The Cannes film festival is all about movie stars, late nights and early mornings, illicit cigarettes and too many drinks. Well, this year we have another strange thing going in this French location…As people wave signs in front of the Palais des Expositions in Cannes, looking for a ticket to a preview, looking for a bow tie, or someone offering their VIP pass to the highest bidder, others have improvised as black marketeers and are dispatching the different offers and requests by SMS.

Echange place Sin city contre carton pour la soiree…offre valable jusqu'à
…meaning
Will exchange tickets to Sin City for tickets to the party afterwards.
Hey, why wasn't I invited to that party? That party is to spicy for me anyway, so who cares…