Poems are going mobile
[Via TimesOnline]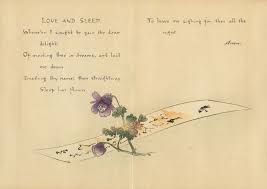 Poems are going mobile. Wherelse but in Japan. It's no surprise after the novels made the same move also in the the Land of the Rising Sun. I'm talking about Tanka — the 31-syllable poems, like extended haiku, that have been a staple of Japanese literature for 1,300 years. Chie Kato , a 21-year-old miss, is writing tanka. Sounds interesting already. All over the country, young people like her are doing the same thing. I would like to meet this girl…her name reminds of me of a Haruki Murakami character. Where art thou Chie Kato? With three books of poetry to her name, Ms Kato is at the vanguard of what have become known as , uh, keitai tanka — "mobile phone poems" — that are written and distributed on mobiles. There is now a weekly keitai tanka programme on national radio, a keitai tanka magazine edited by Ms Kato, and numerous websites. There goes the tradition…
Sometimes a poem can take me three or four months to refine,
says Setsuko Utsunomiya, 60, a poet from Oita.
I can't help feeling that mobile tanka are a completely different thing.
What happened in fact is that they've got bored of taking pictures with their cameras and started to give tradition what it needs: perpetuity. I'm sorry boss! I Hope this last phrase doesn't sounds to tanka. Let the tanka rise!