Man charged over SMS threat to mayor
[Via The Age]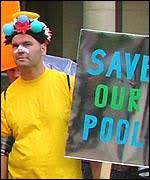 I know that the sms can have multiple usages. Apparently, I'm not the only informed man on this planet. A 41-year-old ozzy from Newport was charged by the police after he allegedly sent a threatening text message to the mayor of Maribyrnong Council because she supported closing the Footscray pool. Cr Michelle McDonald said the man, who will appear in Sunshine Magistrate's Court next month, sent a text message to her mobile phone
that threatened the brakes of my car and made a personal insult against me
. She said the threat was made in March, a day after the vote to sell the pool site.
Since then I've been chairing meetings and going to public events and not knowing if he was there, or even who it was, so it was very unsettling,
Cr McDonald said.Despite strong community opposition, the council voted to close the 76-year-old pool. A $17.5 million aquatic centre will open next to the Highpoint shopping centre next year. Cr McDonald told The Age in March that the pool made a $1 million loss each year and was sinking into the ground.
P.s. I guess the man was too attached-inexcusably so- to both the old pool and his phone. Perhaps a PR Campaign run via sms could have prevented the man from taking that kind of action. He's just another tragic hero.