Sms service for dogs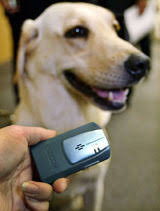 SOUTH Koreans will start to communicate with dogs via sms…errr, that's the weirdest story I've heard this week. KTF, a mobile phone operator, says it will be offering a service to let dog owners know if their pets are feeling happy or sad. Users must register their dog by connecting to the internet using their phone and provide information such as the dog's breed and age. Then users can record their dog's bark and receive a text message saying how their pet is feeling, such as: "I am happy" or "I am frustrated"...or , please let me add, "Man, I get horny chasing Pipi…I go for her, but then she starts running around the block. Damn!". The service also translates basic messages into dog sounds.

P.s. I wonder if ZYB could give a hand when it comes to materializing this concept. Neee, they're too serious to get into this. Easy texting is for humans only…and perhaps the big black eyed gray aliens from Zeta Reticuli! ZYB doesn't have the intergalactic sms yet…but hey, the international sms service still works for us.